if you have a catering business and want to plan catering events with environmentally friendly products without having to invest heavily, then you've come to the right place! Today we present you some effective principles to develop these activities in an effective and more sustainable way.
Organic catering is a trend that is becoming more and more popular because of the values it conveys. This is due to the constant growth of a sector of the population committed to safeguarding the planet. And how to implement this vision through your catering services? Here we explain it to you!
Catering with organic products: what is it all about?
It is an environmentally friendly service that takes care of the external supply of food and beverages. And what makes it different from the traditional model? This type of catering guarantees high quality standards, while valuing the impact that each process will have on nature.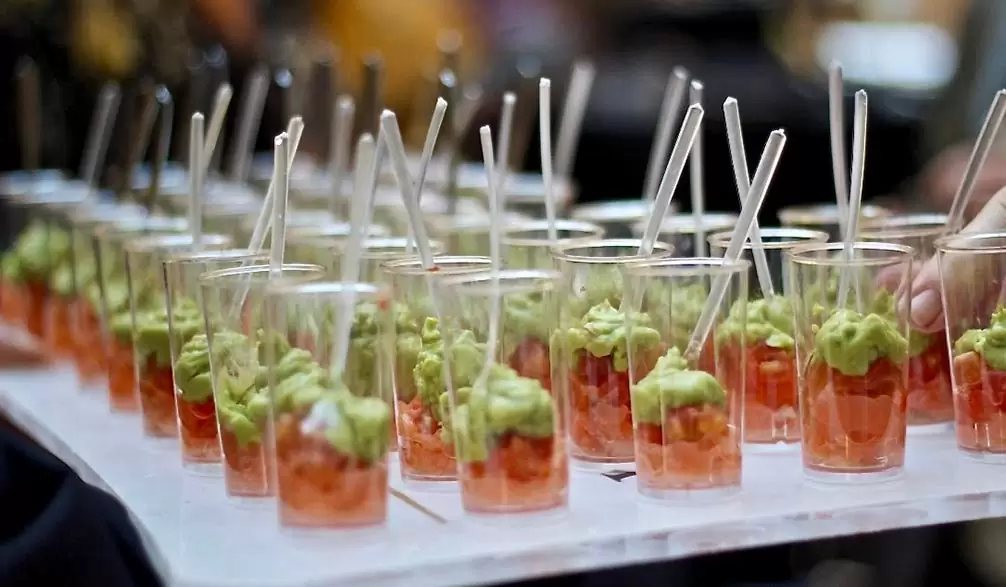 In this sense, it considers recycling as a priority alternative in the selection of raw materials and waste management. In addition, when offering this service you should relate to suppliers, means of transport and other companies that share the same values.
On the other hand, the food included in your proposal must be seasonal and locally harvested. The gastronomic offer included in the menu will be carefully reviewed by accredited specialists in the area. And very importantly, the material resources of the green catering should be made of reusable, biodegradable or recyclable materials.
9 steps to organise a green catering event
Here are 9 steps to follow to set up your green catering service:
1. Put together a responsible and environmentally friendly team
To begin with, you need to put together a team that carries out its catering functions with a strong belief in the importance of sustainability. The idea is that in every activity, they strive to find solutions with the least impact on nature. In addition, by fulfilling their responsibilities from this perspective, your employees transmit the same enthusiasm towards the community.
Hold regular meetings for the joint construction of service proposals and the strengthening of this new identity. This will allow them to continue to grow as a company and find new ways to manage the ecological products found in your locality.
On the other hand, organic catering professionals are characterised by the elaboration of menus with healthy dishes. Always striving to reduce the carbon footprint in each process and seeking more efficient alternative energy sources.
2. Use fruit, vegetables and greens sourced from organic gardens
Ask yourself where the raw materials you use to create your dishes come from. This is an important question, as through this practice you could be harming the environment. Take the time to research local farmers who source their produce using organic techniques.
Arrange an interview with them to get some recommendations on the use of their products and ask them for certification. In terms of benefits, studies have shown that organic food from local gardens is much healthier. And this applies broadly to your consumers and the surrounding natural environment.
Moreover, these activities help to conserve the soil's nutrients and do not use chemicals. This trend has led more and more farmers to join organic food production. And the best thing is that the associated costs are not too excessive and have a very quick return on investment.
3. Buy meat from organic farms
In your catering with organic products you should include food derived from activities that cause as little damage to the environment as possible. For this reason, preferably buy meat or other animal products obtained from environmentally friendly processes.
Demand that the animals have adequate living conditions and that their food is completely natural. Also, verify that they have eliminated the use of hormones or other products that artificially modify the quality of the meat.
As a result, you will use higher quality meat, eggs and milk in your organic catering service to outperform your competitors. And best of all, your guests will appreciate the dining experience reflected in every dish on the menu.
4. Create a 100% natural menu
Less processed foods retain their quality attributes and provide more nutrients than other ingredients. In addition, by being untreated, you indirectly contribute to the reduction of greenhouse gas emissions. And when you exclude preservatives from your dishes, diners enjoy higher quality dining experiences.
On the other hand, organic catering often creates vegetarian options that are associated with environmentalism and are more sustainable. However, if you want to add meat options to your menu, you only need to pay attention to seasonal variables. This is the best way to guarantee freshness, quality and the lowest environmental impact.
Certainly, with a 100% natural menu you ensure organic ingredients without sacrificing the taste and presentation of the dishes.
5. Use organic kitchenware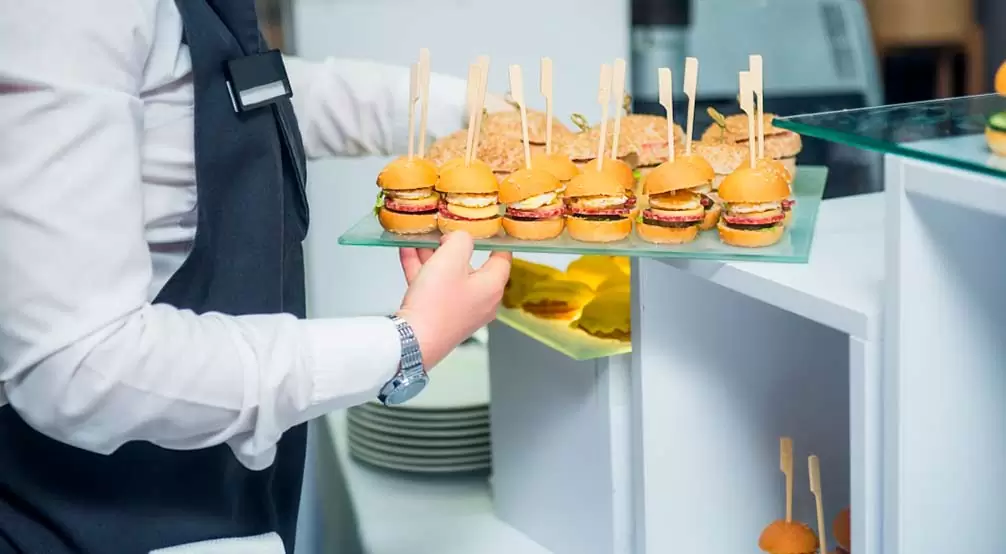 To get the best results in your catering service with organic products, you should use reusable, recyclable, biodegradable and compostable culinary utensils. This is the case of the plates, cutlery and glasses that you will use to taste or serve your dishes. The idea is to buy kitchenware made from environmentally friendly materials such as sugar cane and palm leaf plates or pine needle cones.
Eco-friendly utensils are very efficient in saving time at the end of your catering events. Your staff only has to focus on collecting the leftovers and disposing of them in the appropriate containers.
In addition, you guarantee greater health and safety for your customers as the eco-friendly catering utensils are delivered in the correct packaging. This aspect is very important in these times, where the health emergency made reducing the risk of contamination an additional value.
6. Recycle and reuse your materials
It is important to collect all waste selectively in each link of the production chain. Ask yourself,how can you give a second chance to each of these material resources? This strategy is highly effective to counteract the growing pollution in our societies and to take care of the health of your customers.
Start by sorting the remaining materials, placing them in environmentally friendly containers and transporting them to companies known as puntos limpios. These establishments share your vision of environmental protection and will take care of using the material for new purposes.
The process of recycling and reuse has been perfected over the last decade and influences many productive sectors. With the advent of robotics, the potential for separating and sorting waste has grown steadily. And it will undoubtedly continue to bring benefits for catering services with environmentally friendly products.
7. Reduce water and energy consumption
This is a vital aspect of ensuring high levels of sustainability at your catering events. It will also save you large amounts of money by reducing the costs of your utility bills. Therefore, we will show you some measures to consume water and energy responsibly in your activities:
Promote the creation of artisanal dishes as the first alternatives on the menu, as a priority over the industrialisation of the process.
Always try to use as little water as possible in your services. A very efficient way to control the flow without sacrificing performance is to install flow-reducing taps.
Use energy from more sustainable sources, such as those produced by solar panels or wind systems.
Buy appliances that are optimised for low energy consumption. In our country you can easily identify these appliances, as they have a special label printed on them.
Install LED lamps or energy-saving bulbs in your catering service. This way you can illuminate your service with a fraction of what is required in other systems.
8. Use environmentally friendly means of transport for your cateringservice
Another way to help the planet from your catering company is to transport your products by non-motorised transport. In this way, you eliminate polluting gas emissions when moving your logistics to events.
This strategy is currently on the rise and is expected to become even stronger in the catering sector in the coming years. It is also an effective way to project your green vision and get good results in the short term.
And the best thing is that some means of transport such as bicycles are much cheaper than any other existing alternative. The idea is to generate changes for the well-being of the planet, from all the productive phases of your business.
9. Implement eco-friendly lunch box catering
This is a strategy that consists of using ecological containers to transport the products in your catering service. On the inside, each food item is protected by biodegradable packaging made from materials such as cardboard, bamboo or sugar cane
One of the benefits of the lunch box is that they offer a surface suitable for your brand colours. And therefore, it will allow you to convey your commitment to the protection of nature. All in all, it is a great alternative to organise your catering service with organic products.
All of the above indicates that catering with organic products is a sustainable trend that is here to stay. You have in front of you a great potential to make your business grow, while helping to take care of the environment. And don't forget that at Greenuso we have a digital catalogue with organic products for your new catering service. See you there!