We promote sustainability in the hospitality sector, which is why we have launched our brand, Greenuso. Concerned about the distribution of environmentally friendly packaging, we managed to considerably reduce the environmental impact. To achieve this, we focus on providing a wide range of eco-friendly packaging made from natural raw materials.
Our products range from disposable beverage cups, tableware and food boxes to garbage bags, catering boxes and carrier bags. Our product range is extensive and, to ensure that we always respond to the needs and wishes of our customers, it is constantly expanding. Benefit from a strong and recognisable brand and a clear history.
Ecological materials
In a brief way we explain you the ecological materials that you can find in our products contributing to a better world. You can click on each material to display its description.
Bagasse

Bagasse, also known as sugar cane pulp, is the residual fibre of cane sugar production. Its high cellulose content makes bagasse an extremely strong material and it can withstand temperatures of up to 100 degrees Celsius in both conventional and microwave ovens.
Cardboard

Our cardboard is made from primary wood fibers. The result is an ideal monomaterial for recycling. Greenuso® cardboard products can be disposed of with the old paper.
PLA

A biological plastic derived from starch. The heat-resistant version (up to 85 degrees Celsius) of PLA is C-PLA. C-PLA is white due to the addition of chalk. Since both PLA and C-PLA are biodegradable in an industrial composting facility, items made from these materials carry the Seedling logo.
Compostable Bioplastics

Bioplastics is the collective name for various types of plastics made from plants. Greenuso® bioplastics bear the Seedling logo and the compostable logo. This means that the products can be composted either in an industrial facility or in a garden bin.
Kraft paper

Kraft paper is made from unbleached FSC® paper. The brown material has a natural appearance and is easily composted. To make the kraft paper resistant to moisture and grease, a PLA coating is added.
Paper Pulp

The pulp is made from recycled paper and cardboard. After use, this material can be disposed of with the old paper.
Palm leaf

In the past, palm leaves were burned. Today, this exceptional product has a new life as a packaging material. Thanks to the natural variation of palm leaves, each item is unique.
Wood

We mainly use FSC® certified wood from responsibly managed forests. The wood is very resistant, can withstand temperatures of up to 100 oC in a conventional or microwave oven and can also be placed in the freezer.
Bamboo

Bamboo's rapid growth makes it a suitable raw material. All our bamboo products are FSC® certified and compostable. Bamboo products are also very strong, taste neutral, fat proof and waterproof and can withstand temperatures up to 200 oC in a conventional or microwave oven.
📖 Certifications 🥇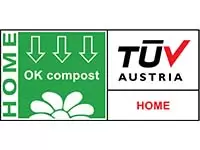 OK Home Compost TUV Austria
TUV AUSTRIA has a recognised certification programme for organic recycling in the home. Containers and disposables with the TUV AUSTRIA OK COMPOST HOME logo are suitable for home composting.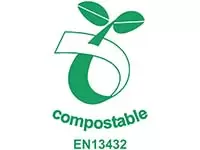 Seedling logo
Compostable packaging materials are materials that comply with the EN 13432 standard. Only EN 13432 certified packaging and disposables can use the seedling logo and/or the OK COMPOST logo. Both logos show that the product can be composted in an industrial environment.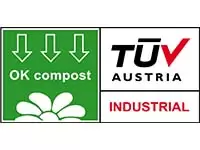 OK Industrial Compost TUV Austria
Compostable packaging materials are materials that comply with EN 13432. Only packaging and disposables that have been certified according to EN 13432 may use the seedling and/or the TUV AUSTRIA OK COMPOST logo. Both logos show that the product can be industrially composted.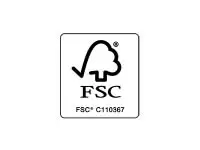 FSC & PEFC
FSC-certified products are made from wood and wood-related raw materials such as paper and cardboard, which come from sustainably managed forests.
Food service
Greenuso® products are essential for catering and restaurant professionals who value authenticity and natural purity. Biodore® is also the creator of natural environments at festivals and events. Try and experience nature!
Office / Facilities
Packaging is an excellent way of communicating your Corporate Social Responsibility. Greenuso® can help. Let your employees and customers see that you are involved with the natural world and society.
Retail
We offer a number of retail packages especially for direct sales to consumers. We will be happy to advise you on optimal shelf presentation and help you with (seasonal) campaigns.
Non-food retailing
Non-foods have a taste for packaging. We regularly see Greenuso® products used as the basis for unique gift packaging.