More and more restaurants and catering businesses are implementing sustainable delivery as a strategy to be environmentally friendly. Why is this new trend? Well, customers of restaurants, bars and cafés nowadays value sustainability as an element of service quality much more highly.
Combine this with product excellence and speed of delivery and you will achieve new levels of productivity. That is why this time we want to present you the main keys to make your home deliveries more eco-friendly. So take note and enjoy the ride – let's get to it!
what is sustainable delivery?
It is an eco-friendly vision of delivery, which focuses on delivering orders in the most environmentally friendly way possible. To achieve this, your hospitality business must ensure high-quality, sustainable delivery processes and materials. This is beneficial for the profitability of your business, as you will be able to make more profit without high investments.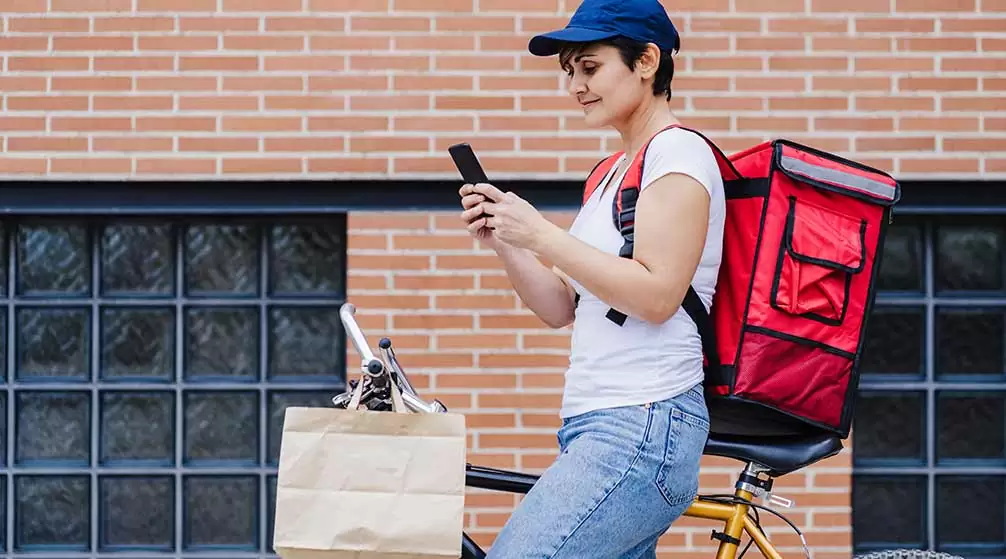 Moreover, more and more customers prefer this dynamic, as they recognise its benefits for the preservation of the planet. Sustainable delivery has been present in the restaurant sector for years. However, the health emergency prompted the search for other alternatives to deliver food and beverages.
Indeed, distance has become a factor to be taken into account for every catering business. And this service offers you the opportunity to stand out from your competitors by offering quality delivery at attractive values. Therefore, opting for sustainable materials and processes will help your business grow
Sustainable delivery transport: 5 keys to implementation
Here are 5 keys to help you make your delivery service more sustainable:
1. Use bicycles for sustainable delivery
One of the challenges facing businesses in the hospitality sector in this new century is the reduction of harmful emissions. And how can you help to achieve this goal? Well, by using bicycles in your delivery service, you will notice that the harmful gases you expel will decrease significantly.
Keep in mind that the aim is to reduce pollution at every productive level of your service. And if you can ensure that your sustainable delivery fleet has these characteristics, then you will be that much closer to the goal.
2. Use recyclable, biodegradable and compostable take-away containers
Opt for recyclable, biodegradable and compostable takeaway packaging. This is one way to reduce the environmental impact of your hospitality business
By having a collection of packaging that can be easily recycled after use and that is biodegradable, or even compostable (degrades by natural or human action in a limited period of time), your restaurant or café will enhance its reputation as an environmentally conscious business.
What's more, these containers usually have a minimalist, natural and elegant look that exudes eco-friendly style from every pore, so it will be clear to your customers when they receive their order.
3. Incorporate low carbon footprint materials in your deliveries
Use packaging made from materials that have a low negative impact on the environment. To do this, consider using alternatives such as palm leaves, bamboo, corn starch and sugar cane. Certainly, the manufacture of these resources responds to processes that are respectful of the planet.
On the other hand, their appearance is quite similar to other packaging, ensuring a clean and pleasant appearance. In this way, your deliveries will be sustainable and in line with your new eco-friendly vision.
4. Opt for eco-friendly packaging
This is a great alternative in a society where pollution levels continue to rise. These are materials used to store your products, which due to their composition are disposed of in special spaces. Then, they are moved to clean points in order to be recycled.
In this way, new packaging with high resistance qualities is produced. Nowadays, the use of some types of fabrics, cardboard or paper is widespread. This is mainly due to the increasing ease with which raw materials can be extracted and quickly used in the creation of new products.
Among these materials, kraft paper stands out, widely used in the manufacture of bags and boxes for storing food and beverages. In this way, you have a very versatile option due to its resistance, firmness and diversity of thicknesses.
5. Offer your customers the alternative of "rejecting extras"
An option that is gaining a lot of followers in catering businesses is the possibility of eliminating some extras in the orders. In this way, your customers can do without cutlery, envelopes with sauces, chopsticks, napkins and many other additional items.
For ease of implementation, opt for a software where people specifically state which extras they want to pack. This will avoid overproduction of items, which are often completely unnecessary.
how does sustainable delivery benefit you?
To increase the revenue of your hospitality business, you need to make a significant investment in take-away packaging. For that reason, it is important to select materials that stand out for their reliability and economy.
Here are some reasons why choosing sustainable packaging will not only help you to efficiently fulfil your business' delivery service:
The prices of sustainable products are not excessive and stand out for their wide-ranging benefits
These products are made to efficiently preserve food and beverages, with materials such as cardboard, paper, sugar cane and bamboo
They are ideal for efficiently adapting to the new demands of your clientele, taking service to new levels.
Using these containers is a very attractive feature to add environmentally conscious customers.
And the best thing is that this movement continues to grow at a rapid pace
Sustainable delivery is a great investment to project the eco-friendly values of your restaurant, café or bar.
As you can see, adding this personalised service will take your business to new levels.
And if you still don't know where to buy sustainable packaging, take a look at our online shop Greenuso where you will find a wide catalogue with the best eco-friendly packaging that will help you guarantee a quality service
start increasing your productivity while adapting efficiently to the demands of the hospitality industry! What are you waiting for?