PLA: Inert bioplastic for the planet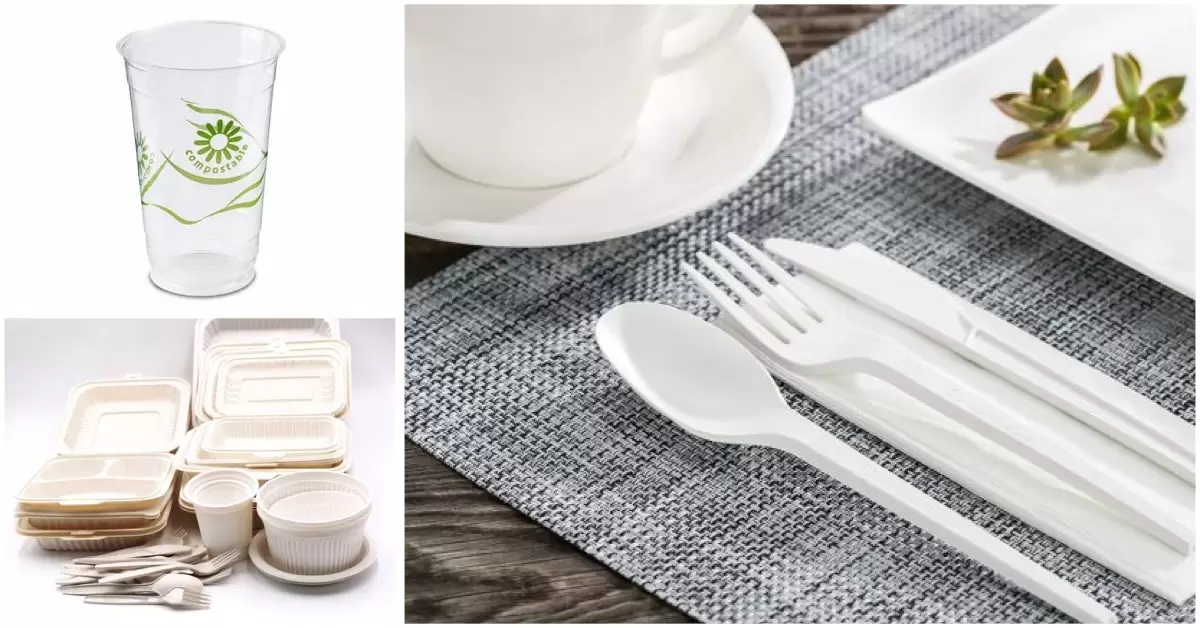 The biodegradable PLA is one of the most used materials in diverse industries at the present time, its elaboration based on renewable elements positions to the biodegradable PLA like the best option in the market.
Used in restaurants to serve food and beverages, PLA bioplastic has a large number of applications that you will discover thanks to Greenuso.
What is PLA bioplastic?
It is a bioplastic obtained from corn, yucca or sugar cane starch.
Biodegradable PLA is capable of withstanding up to 85°C, can be degraded with water and carbon dioxide, and is treated in industrial composting facilities.
This is how PLA is manufactured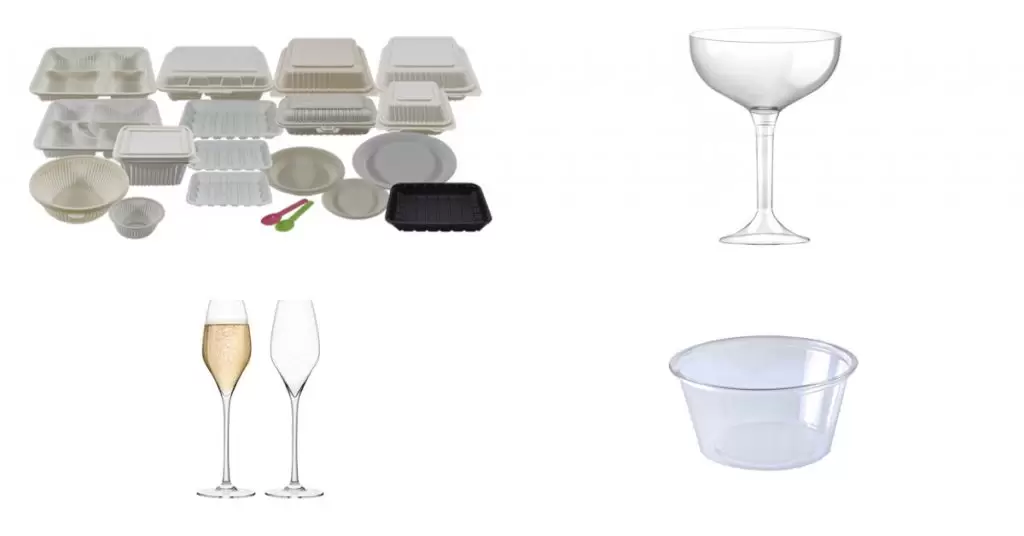 In a process in which the elaboration of bioplastic happens in the presence of natural resources, natural gas and coal, it is possible to elaborate a versatile and friendly product with the environment.
This sustainable material derived from renewable raw materials is extracted from corn, yucca or sugar cane plants and when enzymes are added it is transformed into dextrose and then fermented by microorganisms and converted into lactic acid.
This process guarantees the absence of oil as a primary resource in the elaboration of this bioplastic.
PLA Bioplastics – Properties
PLA bioplastic has many properties that make it the material of choice par excellence. Used to make packaging among other products, it provides a better quality of life.
Besides being a biodegradable polymer, PLA has several properties, among which we can mention
It is a versatile material.
It is transparent and odourless.
It does not change the taste of the food.
Resistant to moisture and fat.
Can be rigid or flexible.
It's low flammable.
Is this material recyclable?
Due to the elements that compose it, PLA plastic can be degraded in particular conditions of industrial composting, thus reducing the environmental impact.
The plastic PLA degradation process is carried out under controlled humidity conditions, temperature above 55°C and 70°C in the presence of microorganisms.
What is this bioplastic used for?
Because it is a versatile element, biodegradable PLA is used for the benefit of people in the medical, textile and packaging areas.
In the medical industry, bioplastic is used in orthopedic, abdominal, facial and thoracic surgeries for the production of implants that can be placed in bones or tissues.
Its applications in the textile industry are related to the production of fabrics for upholstery, awnings and covers resistant to ultraviolet light.
In the restaurant industry there are four main uses for this type of material, which are
Serve drinks cold.
To serve hot drinks.
Making bowls.
Making transparent containers.
Waste Management
When throwing away PLA plastic products we must do it in the recycling containers for compostable products, this way the process of industrial composting is guaranteed in the presence of ideal conditions for its degradation.
Biodegradable PLA plastic products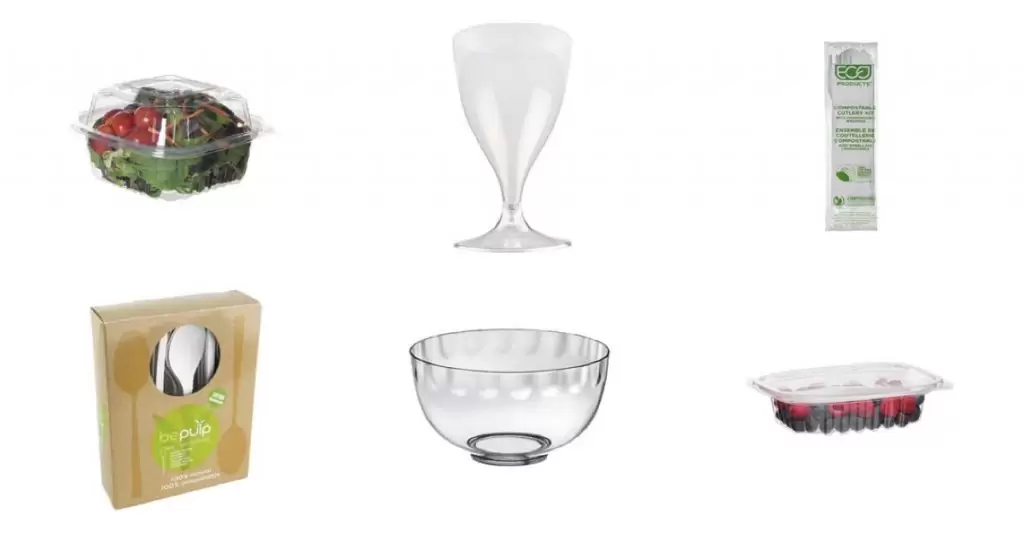 Next, we will see the most common products in the area of restoration, hotel and catering, made from this ecological material.
Biodegradable PLA Plastic Cups
Biodegradable PLA Plastic Cups with a plastic-like appearance are the best choice when it comes to a celebration, meeting or event.
They are used to serve hot and cold beverages. They support temperatures of up to 45° C, offering a quality service without harming the environment.
With the use of PLA Biodegradable Plastic Cups the amount of contaminating waste is reduced, they can be degraded in a composting plant.
Biodegradable PLA Cups
With the Biodegradable Cups PLA you can be sure that elegance will be the protagonist of your event, celebration or special meeting.
Resistant, disposable and environmentally friendly, the PLA Biodegradable Cups offer the ideal option for serving drinks such as champagne, wine or gin and tonic.
Its finish imitates glass perfectly. Therefore, the elegance, class and distinction of the event will not be at risk.
The PLA Biodegradable Cups are specially treated to avoid any risk of reaction among people allergic to corn starch.
PLA corn starch straws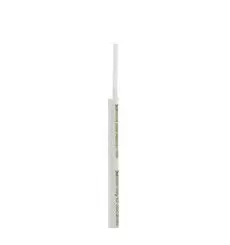 One option to save time at the end of your party, event, celebration or catering is the use of disposable products such as PLA Corn Starch Straws.
These ecological straws are ideal when serving a drink, besides offering an alternative of care and protection with the environment.
The PLA Corn Starch Straws are resistant and offer a great durability, they do not break easily.
Among the most important characteristics of the PLA Corn Starch Straws we can mention that it is a product accessible to all types of budgets.
It is also biodegradable because it is manufactured with natural and compostable materials, which makes it an eco-friendly alternative.
Biodegradable Cutlery PLA
Manufactured from corn starch, PLA Biodegradable Cutlery is highly resistant, withstanding temperatures above 45° C.
They have high weight and hardness, therefore they are the best option to use in your parties, events or celebrations.
PLA Biodegradable Cutlery can easily replace traditional cutlery.
They protect the environment by contributing to the elimination of waste, since PLA Biodegradable Cutlery degrades in a maximum time of 90 days.
Miniature Corn Starch PLA
The Corn Starch Miniatures PLA are the perfect alternative to highlight the presentation of your event, meeting or celebration, are widely used in the hotel and catering sector.
The price is one of the great advantages of this product, because at a low cost you can enjoy an unparalleled presentation.
You can find Corn Starch Miniatures in different models, serving as a decorative attraction during catering and tasting services.
Miniature Cornstarch is considered a biodegradable product that does not pose a risk to the environment.
They are resistant, suitable for food consumption and do not affect people allergic to corn starch.
However, it is important to take into account the following recommendations to make good use of Corn Starch Miniatures: they can withstand temperatures of up to 50° C and are not suitable for use in microwaves or dishwashers.
If you want to offer an elegant, outstanding and attractive service at your event, do not hesitate to present your meals using the Corn Starch Miniatures, you will cause a sensation and nobody will resist enjoying the experience.
Corn Starch PLA Packaging
Made with renewable materials, PLA Corn Starch Containers are biodegradable, resistant, safe and hygienic. They can be used by people allergic to corn starch and its derivatives.
It can withstand low temperatures and has a refined finish.
When thrown away, they must be deposited in containers for organic waste, from there they are taken to plants where they are converted into compost through an industrial process.
Similar to plastic containers, PLA Corn Starch Containers are used to safely transport food.
These sustainable containers are transparent, they don't change the taste or smell of the food, which makes them ideal for use in take-away businesses.
They contribute to the environment and are considered an excellent option for storing and preserving food.
All these products are part of our extensive range of organic supplies for the restaurant, hotel and catering industry.
We invite you to visit Greenuso, our online shop, so that you can see all the options we have for your business and at the best prices on the market.