More and more companies have focused their business strategies on caring for the environment and respecting the rights of their workers.
Becoming a sustainable company is not an overnight job.
However, if you follow the right steps , you can achieve it in just a few months
In this article we will explain what sustainable companies are, what their characteristics are and some success stories, the idea is to motivate you to become part of this select group.
What are sustainable companies?
Sustainable companies are those that focus their objectives on making social, economic and environmental adjustments that contribute – in a positive way – to the care of the environment and society.
They are also recognised for knowing how to create a balance between company profitability and sustainable adjustments that, in general, comply with the agenda established by the United Nations.
On the other hand, sustainable companies are more highly valued by customers and potential investors, as well as having an image of respect for the environment that contributes to strengthening the brand and increasing its profitability.
Three views of sustainability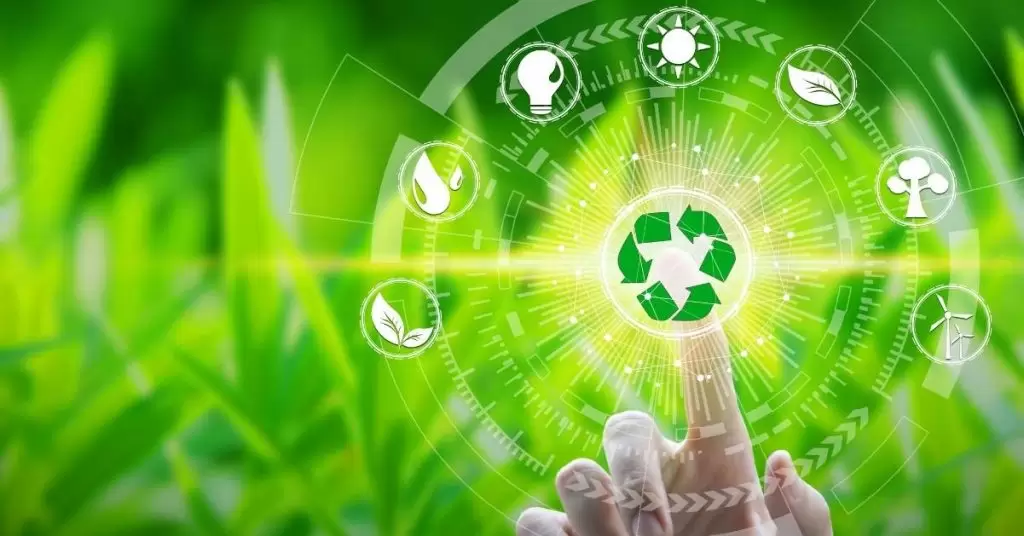 Any sustainable company must comply with three fundamental parameters: economic, social and environmental
Each one of them is important to make the company sustainable, from any point of action.
Learn more about the three dimensions of sustainability and apply them to your business.
Environmental
From an environmental point of view, a sustainable company seeks to ensure that all processes in the production chain are environmentally friendly
An example of this is the use of natural resources and their immediate replenishment, such as controlled logging, or the replacement of polluting raw materials – such as plastic – with recyclable, reusable or biodegradable alternatives.
Social
The sustainable approach in the social sphere seeks to guarantee compliance with the human and labour rights of the members of the company's team
Within this aspect, actions such as fair working hours and working hours or adequate wages for workers are included.
Economic
Finally, the sustainability of the company guarantees its independence from other companies.
Sustainable companies are also ideal for business alliances, so it will be easy to have the financial resources required by the company.
15 successful sustainable companies
For your company to be sustainable you have to implement all the parameters and for further recognition, achieve a high rating in the Dow Jones Sustainability Index.
There are many examples of successful sustainable companies. Here is a list of 15 sustainable companies, take a look at how they have done it and become the next one.
1- Santander Bank
The first example is Banco Santander, which has 86 out of 100 points on the Dow Jones scale
It is one of the most successful sustainable companies for promoting environmental care, carrying out philanthropic actions, supporting entrepreneurs, guaranteeing financial inclusion, protecting the privacy of its users and awarding scholarships
2- Indra
Indra is another company dedicated to the promotion and execution of sustainable actions that have helped to reverse the effects of climate change from space
They also plan to turn several cities around the world into smart cities
For its hard work in sustainability, Indra has been a member of the Dow Jones Sustainability Index for more than 14 years.
3- Naturgy
Naturgy is listed as one of the most sustainable companies in the world, within the utilities sector, made up of water, gas, electricity and other basic services companies
This company is characterised by a policy where sustainable development has a strong presence.
An example of this is that the energy they supply to people is safe and environmentally friendly.
4- Auara
Auara is an example of a sustainable company in the food sector, dedicated to bottling water.
Auara's production lines use recycled PET plastic bottles and donate part of their profits to facilitate access to water in vulnerable areas.
5- Endesa
Endesa is a clear example of success for being one of the first companies to create and use sustainable policies during its operation
It is also an example of how business can be combined with sustainability and be successful
This sustainable company is consistent with the fulfilment of the United Nations Sustainable Development Goals agenda, with a strong commitment to work against climate change and other global issues.
6- Iberdrola
Iberdrola is another sustainable company that has made the Sustainable Development Goals part of its strategy to increase the production of clean and renewable energy by 2030
While meeting their goal they make sure to respect terrestrial and aquatic ecosystems, provide water sanitation and create partnerships to meet their goal in the shortest time possible.
7- Siemens Gamesa
Siemens Gamesa is one of the world's leading companies in the wind energy sector. Its production lines are considered green because of their close contribution to meeting the United Nations Sustainable Development Goals
With its wind energy business, it has managed to expand sustainability around the world, reducing carbon dioxide emissions in the environment to more than 233 million tons per year.
8- Ecoalf
On the other hand you find Ecoalf, a company with the aim of creating recycled materials with the same quality of the original raw material
Some of the materials it uses are plastic collected from the sea and coffee waste.
9- Nikarit
The ninth success story is Nikarit, a sustainable company that manufactures natural cosmetics
One of its priorities in selling these products is to promote sustainable trade in shea butter and create jobs.
10- Ferrovial
Another successful example of sustainable business is Ferrovial. It has been characterised by guaranteeing labour rights, being attentive to the management they carry out, having the customer as a priority and achieving eco-efficiency.
It has also earned the title of sustainable with the development of social infrastructure programmes that improve water supply in vulnerable areas in Latin American and African countries.
11- Flamingo's Life
Flamingo's Life is a sustainable company dedicated to the manufacture and trade of vegan trainers.
As their main raw material they use recycled plastic bottles and other products that do not degrade
The best thing is that, with the purchase of a pair of shoes you are contributing to the environment, as they allocate a part of the profits to the cleaning of aquatic ecosystems and planting new trees.
12- Hemper
Hemper is a brand of backpacks made in Nepal, characterised by the use of hemp as a raw material
These companies provide jobs to people from vulnerable communities in Nepal and do not use polluting materials in the manufacture of the bags or their packaging, which is made from rice bags.
13- Inditex
Inditex is a well-known fashion company, which has also earned a place on the list of sustainable companies
In its case, it has set out to ensure that the production of its designs complies with the necessary health and safety standards for employees, as well as caring for the environment
As part of its strategy, Inditex assumed the sustainable development objectives to be an active part of the actions to curb climate change and respect for the human rights of its workers in each part of its supply chain.
14- Anmama Catering
Anmama Catering is a company whose service is to offer healthy and sustainable food for events or other special occasions
It is characterised by not using plastic products or pollutants in its service and offers jobs to vulnerable people.
15- Sponsor an Olive Tree
Finally, we find Apadrina un Olivo. This company is located in Teruel and has a plan to benefit the region.
This initiative aims to stop the exodus to the city and to sponsor approximately 6,000 olive trees to generate jobs and produce olive oil.
where to buy sustainable products?
If you want to be part of sustainable companies, you have to start by substituting those polluting products you use for biodegradable or recyclable options
In our Greenuso shop, you will find products for the hotel and catering sector and for private use, characterised by being disposable, reusable or biodegradable
Each of our sustainable tableware and packaging has its own certificate and quality control that guarantees its commitment to the environment.
do you want to change the image of your business and support the environment? Visit our shop and discover what we have to help you in your mission.