Decorating Halloween pumpkins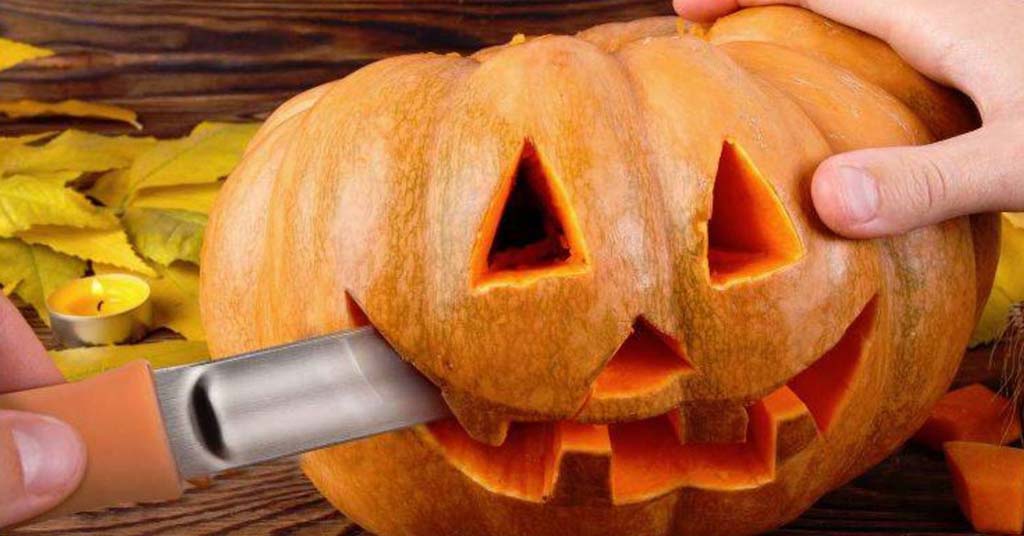 The Halloween is coming and you want to show off with the decorations? Congratulations! Pumpkins are one of the most used elements to set the atmosphere on this date. Therefore, knowing how to decorate them can be a great help to achieve very creative and frightening results. From Greenuso we bring you a list of 10 ideas for decorating Halloween pumpkins to achieve the terrifying atmosphere you are looking for. Are you ready? Without further ado, let's get started!
10 original ideas to decorate Halloween pumpkins
Here are
10 original ideas for decorating Halloween pumpkins
that you will find very easy and simple to do:
1. Pumpkins in black and white
This design is somewhat
ghostly and yet elegant
, ideal for a special Halloween party. Just paint the pumpkins completely white and then draw in black the design of your choice. You can make a scary face, spiders, stripes or other motifs.
2. Super Pumpkin
This idea is
ideal for comic book fans and superheroes
. It consists of making the drawing or symbol that represents your favorite superhero by cutting the pumpkin. You will only have to empty it and make the motive with the help of a cutter. With a light inside it, it will look super!
3. Cannibal Pumpkin
You will need a large pumpkin and some smaller ones. The idea is to cut a monstrous face on top of the larger one with threatening eyes and a
mouth with sharp teeth that should be left open
. On top of the other pumpkins you should paint a face with a frightened expression. Then, the latter must be placed in front of the big one as if they were being devoured by it.
4. Pumpkins with letters
A creative idea for decorating pumpkins is to
draw letters
on them to form a word like "Boo!" or "Halloween". You can use paint or simply cut out the shape of the letters with a cutter.
5. Rural Pumpkin
If you want a
more rural design
this idea is for you. All you have to do is draw a scary face on your pumpkin and put a straw hat on it. Accompany it with a few spikes, jute fabric or sack, among other elements that are in line with the style you're looking for.
6. Ice bucket or pumpkin cooler
If you want
a very original ice bucket
for your Halloween party you can make it with a pumpkin. You only have to make a big enough opening on one side of the fruit, making sure the opposite side sits well. You can decorate it with paint or other elements. Then fill your ice bucket with ice cubes and that's it.
7. Carnivorous pumpkin
Cut a scary face on the pumpkin so that the mouth has sharp teeth and is a little open. Then take a piece of jean or cowboy cloth, a sock and a shoe to
create an artificial leg
. This should be placed in the pumpkin's mouth as if it were being swallowed by the pumpkin.
8. Pumpkin Witch
If emptying the pumpkin is tedious for you, you don't have to do it. You can paint over it a
witch's head
using your creativity. You should not miss the warts and a pointed nose but it will depend on what you prefer. Also, placing a witch's hat on the pumpkin would not look bad.
9. Flaming pumpkins
A very original idea to decorate pumpkins is to make
flames or flames of fire
over them. You only have to cut the surface of the fruit with a cutter. Placing one or more of these pumpkins near the fireplace will look great!
10. Pumpkins with geometric motifs
Cutting
geometric patterns
on pumpkins is excellent, especially if you put a candle or other light source inside. You can make circles, squares, hexagons, among other geometric figures. All you need is a cutter and a lot of creativity.
Decorating Halloween pumpkins: step-by-step guide
Now that you know some
original ideas for decorating pumpkins for Halloween
, do you know how to carry them out? If you have no idea, don't worry. We'll talk to you about the materials, tools and procedure to follow to achieve it:
Materials and tools
Basically, you should gather the following
materials and tools
:
One or more pumpkins.
Cutter, cutters or knife.
Spoon.
Marker or pencil.
Paint, brush and paintbrush (if applicable)
Also, depending on your particular design you will have to get some extra elements.
Procedure
Decorating pumpkins for Halloween is very simple,
just follow this step-by-step procedure
: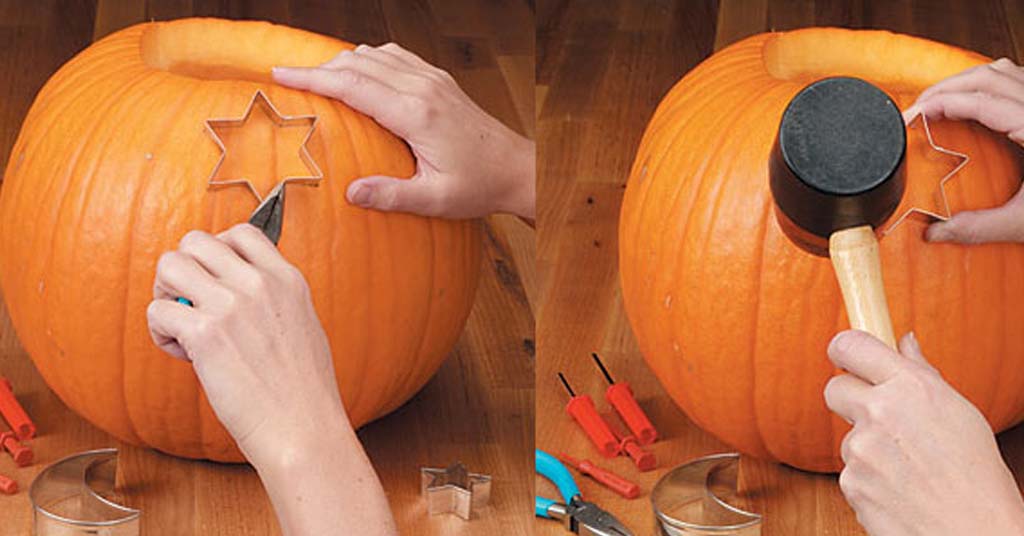 Clean the pumpkin.
Draw the face or design you want on the pumpkin with a marker.
Depending on what you're looking for you should paint the pumpkin or cut it with the help of a cutter following the lines you drew. In the latter case you will have to open the fruit, usually from the top, and remove the filling with a spoon.
Place the pumpkin in the right place with the elements you want.
Ready to go! You already know how to
decorate Halloween pumpkins in a very creative and original way
. At Greenuso we encourage you to use recycled materials to complement your design and contribute to the environment.