Are you interested in contributing to the protection of bees and the planet? If so, you should take a look at this step-by-step guide to making a bee hotel that we have prepared from Greenuso. Believe it or not, not all bees live in honeycombs. Most of these species are solitary and need shelter to ensure their survival. It's very simple, let's get to work!
What is a bee hotel?
It is an initiative that is gaining strength worldwide and aims to
protect be
es. As we know, there has been a considerable reduction in the bee population across the planet for various reasons. Some of these are deforestation, industrial agriculture, water pollution, monoculture, climate change and invasive species, among others. Bee hotels primarily seek to provide a place for this species to nest, feed, reproduce and
protect
itself
from the weather
. Although most of these hotels are designed for lone bees, they are often visited by wasps as well.
Steps to make a hotel for lone bees
To build a bee hotel you will need an open space in your house or farm. Then, you must have all the materials at hand and follow the step by step.
Materials
The
materials
you will need are:
Wood
Abrasive paper
Screws
Drill
It is important that you use any piece of
natural wood
. It is important that it is not agglomerated or treated, as the bees will not come in contact with the chemicals in this wood. It doesn't have to be big to work either, it can be the size of a birdhouse.
Procedure
Next, we will tell you the steps to follow to make a bee hotel easy and simple: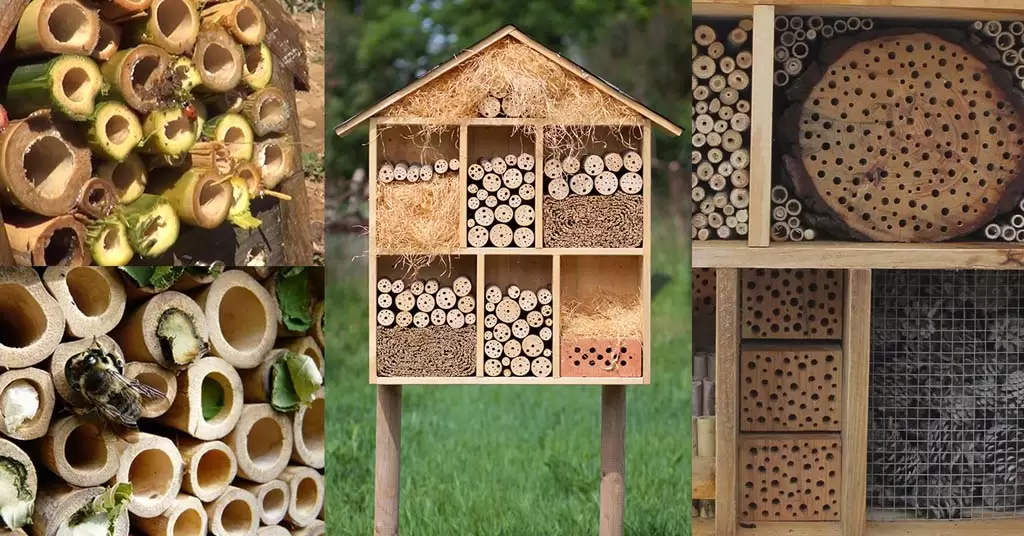 1. Building the structure
The structure should be
covered with a backing
and the roof should be sloped to cover the water and wind chambers. Avoid decorations or objects that have chemicals, as they will keep bees away over time.
2. Creation of Chambers or rooms
To create the chambers or rooms, consider diameters between 0.3 and 1.30, varying them according to the depth of the structure, which is recommended between 15 and 20 centimetres. The chambers can be made from
different types of wood
, bamboo or cane, and if necessary you can drill the holes with a drill. At the end of this process secure it with sandpaper, so that the surfaces are free of splinters.
3. Locate the hotel
You should place the bee hotel in a
quiet
, south-facing location to take advantage of the sunlight. It is important that you fix the hotel well to avoid falling or moving and endangering the bees. The recommended height is approximately 120-140 cm from the ground. Let's not forget that, in the process of designing and building a bee hotel, we can put our
creativity
to work and thus give shape to our taste. Oh, and don't forget to put a ribbon on it when you open it!
How to keep a bee hotel running smoothly: Recommendations
If you have built a bee hotel and you want it to stay in good working order, take into account the following recommendations: As we explained in the step by step, it is important that the bee hotel is placed under a roof that covers them from the rain. Otherwise, when the wood gets wet, the tunnels where the nests are located will get wet. Also, it must be in a visible place for the bees, so it is recommended to place it on a first floor, either on a
balcony or a roofed terrace
. Remember that terraces in buildings are very high and the bees get their food from the ground. As you can see, this represents a lot of effort for them to climb up and down from great heights. The space where the hotel is installed should not have artificial lighting at night. This can confuse the bees and they will end up being attracted to the light of the spotlight, dying of exhaustion or prey to other insects. An alternative to attract bees to the hotel is to locate it near a
garden or plant pot
. This will attract their interest to use the hotel as their refuge. As you can see, making a
bee hotel
is very easy. You only have to follow the maintenance recommendations and in a short time you will be able to see bees nesting. What are you waiting for? Do you dare to build your own bee hotel?