Christmas is coming. Learn how to make jelly glasses and become the innovative soul of the holidays.
Yes, as you read: Jelly glasses.
We already know that the custom is to make desserts with jelly, but glasses?
Well, deep down this is a dessert too.
Here's how: With a special gelatine mixture, which you will learn about later, you can make an edible glass from this delicious food.
Imagine your guests' faces when you serve them orange juice in a glass of gelatin, which they can then eat.
Does it excite you? Go ahead and take a step-by-step look at this exciting recipe.
How to make gelatin glasses
To make the gelatine glasses, we will use the traditional preparation, but with a few changes to give it the necessary firmness.
Ingredients:
85 g of gelatine with the flavour of your choice
40 g of neutral gelatine
1 cup of boiling water
½ cup of cold water
In a large bowl, place one cup of boiling water.
Add 85 grams of gelatin with the selected flavor and stir until it dissolves completely.
Then add 40 grams of neutral gelatine and stir again until no lumps remain.
Once you have all the mixture homogenized, you proceed to pour half a cup of cold water.
Remove all the gelatine again.
Once the preparation is finished, we will put together the structure to make the gelatin glasses.
Build your Jello glasses
For this you will need two ecological disposable cups. One 250 ml and one 150 ml.
These measures are estimated. The idea is that you have a large glass and a smaller one.
Grease the big glass with spray oil. Do the same procedure, but on the outside of the small glass.
With the help of a sheet of absorbent kitchen paper, distribute the oil well over the entire surface.
This step is important. The ease with which the gelatine can be removed from the mould at the end of the preparation depends on it.
Once the greasing process is complete, take the largest glass and pour in some of the gelatine mixture. Stop when you get to the middle.
Immediately, insert the smaller glass into the jelly glass.
Inside the small glass, add some running water. This will cause it to sink and stay in the gelatin mixture.
Add more gelatin in the large glass and water in the small glass, until the preparation reaches the desired height.
Now let's fix the glass that's inside the mixture.
To do this, we will use two strips of packing tape.
With your hand, sink the small glass and fix it to the large glass with a piece of plastic tape in the shape of a cross.
Repeat the same operation with as many glasses as possible.
When the gelatin mixture is finished, refrigerate the glasses for at least three hours.
When using the glasses, take them out of the refrigerator and – very patiently – remove first the small glass and then the large one.
Incredible as it may seem to you, in this glass you will be able to serve some juice to your guests and invite them to eat the refreshing glass when they finish their drink.
Video: Gelatine Glasses edible
Are you one of those who needs to see to believe?
It's all right, we're here to please you all.
Next we will leave you with a video we found on YouTube where you will see the step by step to prepare this simple recipe.
You will surprise many with this original recipe, made with a food as beneficial as gelatin.
By the way, would you like to know the benefits and properties of gelatine?
You'll be surprised to discover how much you can gain from consuming Jell-O.
Benefits and properties of gelatine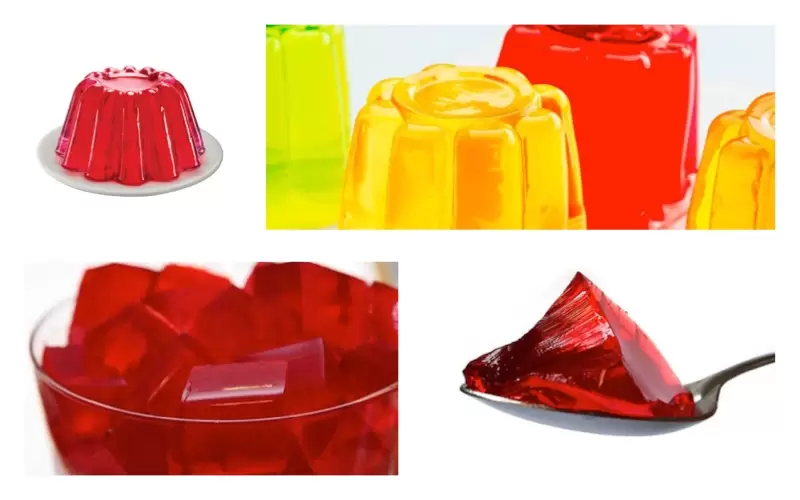 Surely, when you visit a person who is in medical care you will have noticed that the diet includes gelatin.
Doesn't it appeal to you?
Gelatine is not a normal sweet or dessert, it is a food that provides great benefits to our body.
Gelatin is a product with a high collagen content that is extracted from the processing of different parts of animals that are benefited for human consumption.
One of the advantages of gelatin is that it can be used in both sweet and savory recipes. It also stands out for being easy and quick to prepare.
With it you can make desserts, pâtés, soups, sauces, yogurt, among other preparations.
As we mentioned it is a food rich in collagen, but it also has a high protein content.
The mineral salts provided by the gelatine help tissue regeneration and is an excellent natural anti-inflammatory.
Its regular consumption strengthens the health of nails, skin and hair.
The benefits are not only superficial. The joints and tendons are known to improve their conditions when gelatine is consumed.
Gelatine is also rich in amino acids. This property contributes to the health of our muscles.
For people who are on a diet, gelatine is a great ally, as it accelerates the metabolism, while boosting the processes of burning body fat.
Continuing in the fitness wave, the gelatin does not play against it. It is low in sugar and cholesterol.
But the benefits and properties of gelatine do not reach that far. There's more to come.
The consumption of gelatin, as a dessert after a copious meal, will help your digestion. Especially when you eat meat and dairy products.
To close, as if the list were small, we can rectify that it is a natural restorative.
For this last reason, high-performance athletes always include a portion of gelatin in their diets.
Its frequent consumption allows them to recover physically and quickly.
Finally, after analyzing the benefits of gelatin, we are sure you will want to run out to the market to buy the ingredients and make the gelatin glasses.
Take advantage of buying a few envelopes and include it in your daily home menu.