Top 10 original recipes with bamboo skewers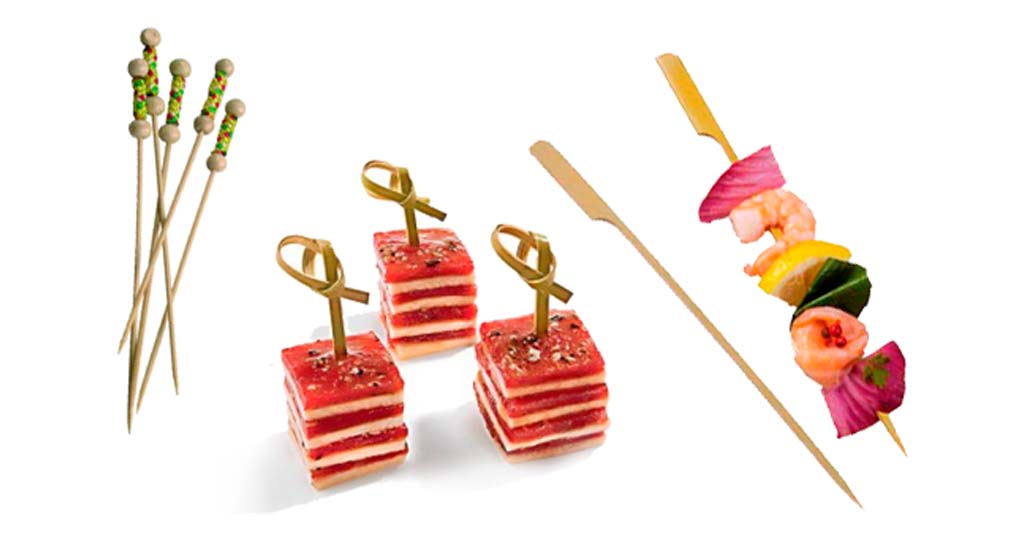 Do you want to prepare original and delicious dishes? From Greenuso we want to show you a top 10 of original recipes with bamboo skewers. As they are ecological, biodegradable and compostable, these skewers take care of the environment.
Take a look at this list of appetizers and starters that you can make with bamboo skewers so that you can stand out with your guests. Are you up for it? Let's get started!
1. Chicken curry skewers with bamboo skewers
A simple to prepare and very delicious dish that will undoubtedly become the centre of attention in your meetings or events.
Ingredients
1 chicken breast.
1 onion
2 scoops of basmati rice
1 clove of garlic
Curry
Ground cumin
Preparation
Peel, chop and brown the onion in a pot.
Add the chopped garlic clove.
Cut the chicken into pieces and add it when the onion starts to become transparent.
Add cumin and curry liberally.
When the chicken is a bit coloured, remove it and set it aside.
Add the rice and fry it.
Add 4 or 5 ladles of water and cook until dry.
Thread the chicken pieces with the skewers and place them on the griddle.
Serve the skewers on a bed of rice.
2. Spicy minced meat spiral skewers
One of the original recipes with bamboo skewers better seasoned of the list:
Ingredients
500 g of minced meat.
A thin, rectangular sheet of Iberian bacon.
Ground black pepper.
Black and white pepper seeds.
Nutmeg.
Mustard seeds.
Salt.
Preparation
Season the minced meat with salt and ground pepper.
Spread out the bacon sheet and place a layer of minced meat of ½ cm over it.
Roll the bacon and meat into a cylinder.
Paint the cylinder with olive oil.
Place the black pepper seeds, white pepper and mustard on a tray and rest the cylinder on them so that they stick to the oil.
Let it rest in the fridge for 15 minutes.
Cut the cylinder into 1 cm thick slices which you will then thread with the skewers.
Grill for three minutes on each side.
3. Grilled monkfish skewers
If you are looking for a light and delicious option, this is the one for you:
Ingredients
400 g of monkfish in medallions.
1 green pepper.
6 mushrooms
6 cherry tomatoes
1 small onion
50 g of sliced almonds
½ lemon.
1 sprig of parsley
Preparation
Cut the monkfish medallions into small cubes.
Chop the onion, pepper and mushrooms.
Spear the monkfishand vegetables on each skewer.
Add salt and olive oil.
Grill the skewers for 5 minutes on each side.
For the mincing, sauté sliced almonds and chopped parsley in a frying pan with a little olive oil. Finish off with a squeeze of lemon.
Serve the skewers hot, covering them with some of the chopped ingredients.
4. Pear, Arzúa-Ulloa cheese and Serrano ham kebabs
If you are looking for a delicious contrast between the sweetness of the pear and the saltiness of the Serrano ham, you can't miss this appetizer skewer recipe:
Ingredients
2 pears.
150 g of thinly sliced Serrano ham.
180 g Arzúa-Ulloa cheese.
Lemon juice
Extra virgin olive oil
Preparation
Peel and slice the pears. Sprinkle them with lemon juice to prevent them from turning black.
Remove the rind from the cheese, cut it up and wrap each piece with Serrano ham.
Spread pear slices and ham and cheese rolls alternately with bamboo skewers.
Brown each skewer in a pan with oil until you see the cheese melt.
5. Grape, duck ham and mango appetizer skewers
The freshness of the fruits and the salty taste of the duck ham will become your best appetizer skewers:
Ingredients
12 slices of duck ham.
1 mango.
6 black grapes
2 tablespoons of maple syrup
1 teaspoon of butter
Preparation
Peel and dice the handle.
Thread the fruit and duck ham alternately with the skewers.
Melt the butter in a frying pan with the maple syrup.
Cook the skewers in the frying pan for 5 minutes.
6. Anglerfish, prawns and cherry tomatoes skewers
Ideal as an aperitif or starter at any dinner or gala meal:
Ingredients
200 g of monkfish.
6 prawns.
6 cherry tomatoes.
6 small French onions
Extra virgin olive oil
Salt.
Ground black pepper
Preparation
Clean, dry and cut the monkfish in equal pieces.
Wash and dry the tomatoes.
Peel the onions.
Place a small tomato, a piece of monkfish, a prawn and an onion oneach skewer.
Add oil, salt and pepper.
Grill the s kewers for a few minutes.
7. Octopus and mushroom skewers
You don't have to be an expert to prepare these skewers, but you do have to know how to wash and cook an octopus properly:
Ingredients
24 slices of octopus.
8 cherry tomatoes.
8 mushrooms
1 green pepper
1 red pepper
Olive oil
Salt
Preparation
Clean and cook the octopus well. Cut it in slices when it is ready.
Clean, peel and slice the mushrooms.
Wash, chop and sauté the peppers in a pan with oil.
Wash the cherry tomatoes.
Prepare each skewer by skewering the ingredients alternately.
Season the skewers and grill them for a few minutes.
8. Salmon skewers with pesto
If you are a salmon lover you should prepare these skewers:
Ingredients
200 g of spinach.
1 bunch of parsley
200 ml of olive oil.
50 g of peeled walnuts.
300 g of salmon.
Salt.
Ground black pepper.
Preparation
To prepare the pesto , blend the spinach, nuts, parsley, olive oil, salt and pepper in a blender.
Remove the skin from the salmon, cut it into small cubes and marinate it with the pesto for 15 minutes.
Spear pieces of salmon on each skewer.
Roast the skewers in a pan with a little oil until the salmon is crisp.
9. Skewers of salmon marinated in soya and sesame oil
One more recipe with salmon. Yummy!
Ingredients
400 g of salmon loin.
Soy sauce.
Sesame oil.
Preparation
Clean and slice the salmon
Marinate the salmon with two tablespoons of sesame oil and three tablespoons of soy sauce for 30 minutes.
Spread pieces of salmon on each skewer.
Grill or bro il for 2 minutes on each side.
10. Pork fillet skewers with Sichimi Togarashi
Exquisite recipe for appetizers and starters with a Japanese touch:
Ingredients
300 g of Iberian pork fillet.
100 g of Iberian pork belly.
Shichimi togarashi (Japanese seasoning).
Wasabi mayonnaise.
Preparation
Remove excess fat from the fillet and cut it into medallions.
Roll each medallion with a strip of bacon.
String several medallions on each skewer so that the end of the bacon is secured.
Season the skewers with salt and shichimi togarashi to taste and grill them for about 5 min on each side.
Serve them with some wasabi mayonnaise.
Now, if you fell in love with any of these 10 recipes with bamboo skewers don't wait any longer and make it yourself. In Greenuso you will find a great variety of skewers for appetizers and very ecological entrances to an excellent price in case you need them. Visit us!