If you are here, it is because you are interested in how to organise a charitycatering event. Charity events are becoming more and more common and many companies have chosen to undertake their own charity event.
Catering company owners have not been left behind and have also joined this trend of supporting a good cause from their business. That is why, today we will tell you everything you need to know to organise a catering for solidarity events.
We will also tell you about some examples of catering companies that have been very successful in carrying out this type of altruistic actions. All this, so that you can project a good image of your company.
Charity catering: What is it?
When we talk about a charity event, we are referring to the organisation of an event whose aim is to raise awareness among the attendees so that they support a specific cause.
To put the topic in context, let's clarify what charity catering is all about. When we talk about charitycatering for events, we are referring to all those charity events planned, organised and carried out by companies dedicated to providing catering services for any celebration for which they have been contracted.
How to organise a charity catering
There are a series of steps you need to take in order to organise a successful charity catering event. We will talk about these steps below, so take note.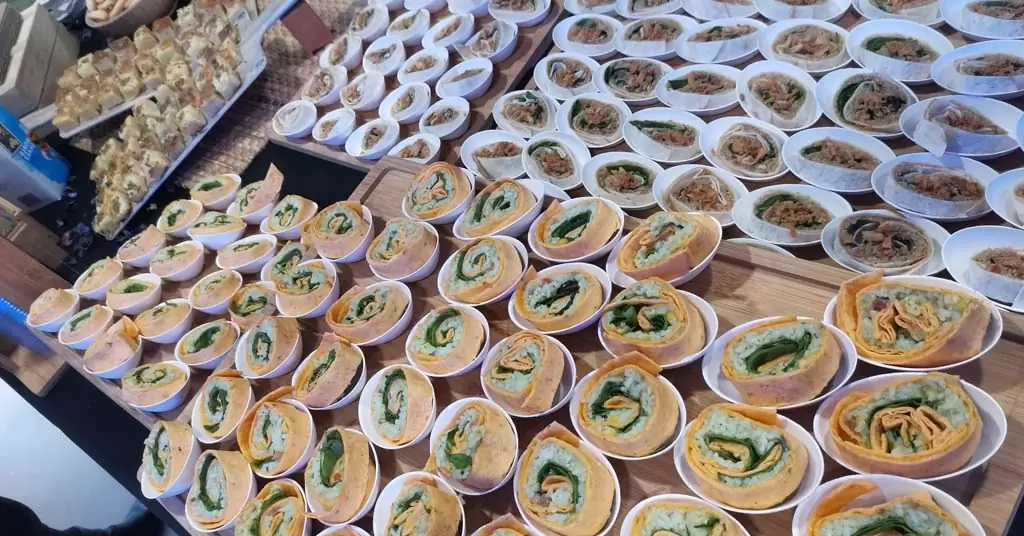 1. Select a target
The first step is to determine which cause you will support and work for. To do this, you must be well informed about what options exist and if you can really contribute to the realisation of your event.
If you are not sure what cause to support, we recommend you to research through different news sources until you find your goal or cause.
2. Form a team
From the planning stage to the actual catering event, there is a lot of work to be done. So you will need to put together a team to help you with this arduous task.
To do this, you need to talk to your staff, explain the objective you are aiming for and engage them to help you achieve your goal. Once the briefing is done, delegate specific functions in favour of the charity catering event.
3. Consider looking for partners
Depending on the magnitude of the project you are aiming to achieve, you may want to look for sponsors to support you in the realisation of your charity event. It never hurts to have the help of other companies that want to support the cause.
The support does not necessarily have to be monetary, as it could be companies that are in charge of advertising the event, or that will lend you the appropriate space for the celebration of the event, among others.
4. Take care of all the details
For your charity catering event to be a success, you must make sure that no detail is overlooked. In case it is a charity dinner, you must serve only top quality food, decorate appropriately, hire professionals for the photographic record of the event, etc.
In short, you have to make sure that everything runs smoothly, from the design of the invitations to the attention of the guests on the day of the event.
5. Publicise the event
This step is extremely important in order to achieve your objective, as the attendance of your guests will depend on the publicity of the event. So, it will be necessary to advertise widely by all means, if we want to achieve a significant percentage of attendance.
Examples of catering companies that have implemented solidarity events
Although charity catering events are generally limited to charity dinners, there are many other alternatives for organising charity catering .
Such is the case of restaurants that offer free training courses, as a social work to train young people in the area of catering. In this way, they contribute to the insertion of personnel into the labour market in this important branch of the hotel and catering industry.
The best thing about this type of solidarity catering is that the students. In addition to the theoretical training, they also learn and gain experience through the practical work they do together with their advisors
To carry out these courses as solidarity catering, you must have the collaboration of professional staff to serve as tutors in such training. So that the young people have a complete training in all areas, such as waiters, cooks, bartenders, etc.
Another good example of solidarity catering is the one implemented by many catering companies during the confinement due to COVID-19. During this period, many catering business managers became known for the excellent social work of packing and delivering food to people in need.
why should your company do charity catering?
If you run a catering business, it makes sense to hold some kind of charity catering event. Here's why.
First of all, when you undertake an activity to benefit a cause, your business gets a good reputation for such philanthropic initiatives.
On the other hand, if your charity catering is related to the training of young people in the hospitality industry, you can recruit employees for your restaurant from the same background. This ensures that you are hiring highly qualified staff, trained in your own business.
Tips for organising a good charity catering event
To organise an unforgettable charity catering event that impresses both the people who hired your services and those who attended the event, you should put the following suggestions into practice:
Inclusive menu
Keep in mind that this type of event is usually attended by a large number of people, so the menu should be adapted to all tastes and preferences. So include options for vegetarians, vegans and lactose intolerant people. This way, everyone present will feel welcome, included and well looked after.
You can even include in your charity catering service an area for healthy food and drinks, thinking about those guests who are careful with their diet. There you can include detox drinks, skewers with different natural fruits, among many other alternatives.
Solidarity Eco Catering
Using biodegradable tableware, napkins, straws and any other biodegradable product in social events of this type will demonstrate the great commitment that the contracting company has with the care of the environment.
In addition, the use of eco-friendly products at charity events tends to win the hearts of those present, who tend to support worthy causes. It will also show how committed you are to caring for the environment.
On the other hand, the use of ecological products in these charity events, usually conquer those present. In addition to supporting your noble cause, they may be motivated to copy your example and join you in caring for the environment
Originality
Be creative when planning your charity catering and include unique details to please your audience. For example, prepare packets of sweets or biscuits with notes about the event, or serve drinks in specially printed containers with designs for the occasion.
If you apply all the tips we have given you on how to organise a charity catering event, your event will have everything it needs to be a great success. Tell us, do you have a cause in mind that you would like to show your solidarity with?