As you know, resources on our planet are finite, so it is important to make the most of them, reduce consumption and pollution. In this task, recycled packagingplays a crucial role.
Packaging made from recycled materials allows your business to have a good environmental management, in addition to offering an image of responsibility towards the environment.
Learn the importance of working with recycled packaging, made from recycled materials such as paper, cardboard and even plastic.
what is recycled packaging?
Recycled packaging is packaging that is made from recycled raw materials.
In addition, the materials used and the manufacturing processes do not pollute or impact the environment.
From an industrial point of view, it should also be noted that the manufacturing process saves energy and the emission of greenhouse gases is reduced.
why use recycled packaging?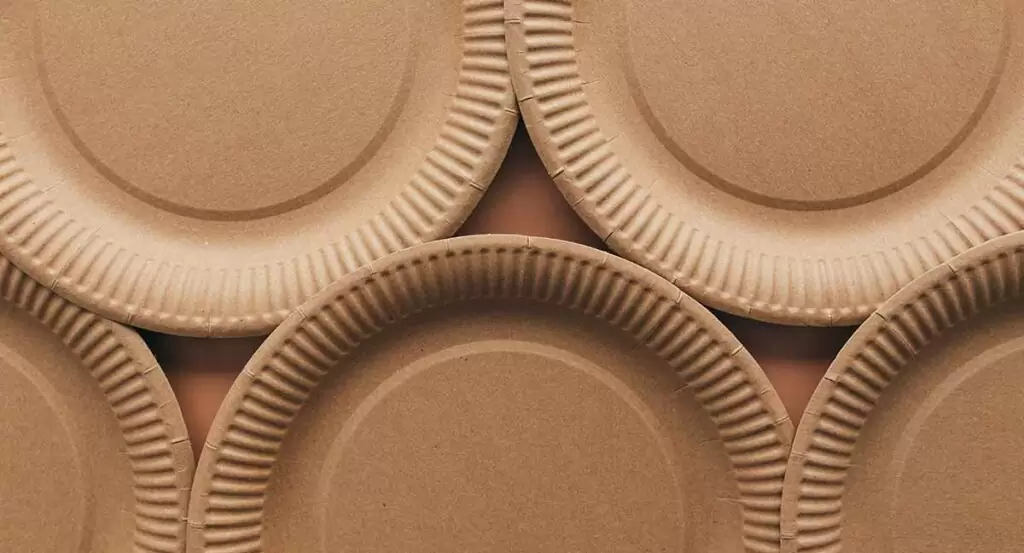 By using recycled packaging, your company will be developing effective policies for good environmental management.
Also, recycled packaging promotes a culture of reuse, which could be welcomed by your potential customers, current customers and even employees.
By contributing to the use of recycled packaging, your company will be using products made with raw materials from green dots.
It also allows you to innovate in the packaging of your business by using packaging made from materials other than traditional plastic or cardboard, replacing them with organic and less polluting materials.
On top of that, using recycled packaging positions you as a promoter of a pro-environmental stance by preventing landfills from holding waste that can be turned into new products.
Gradually, products made from new raw materials will be put on the back burner and you will gradually stop asking for them from suppliers. We assure you that this will also reduce your operating costs.
Ideal materials for recycled packaging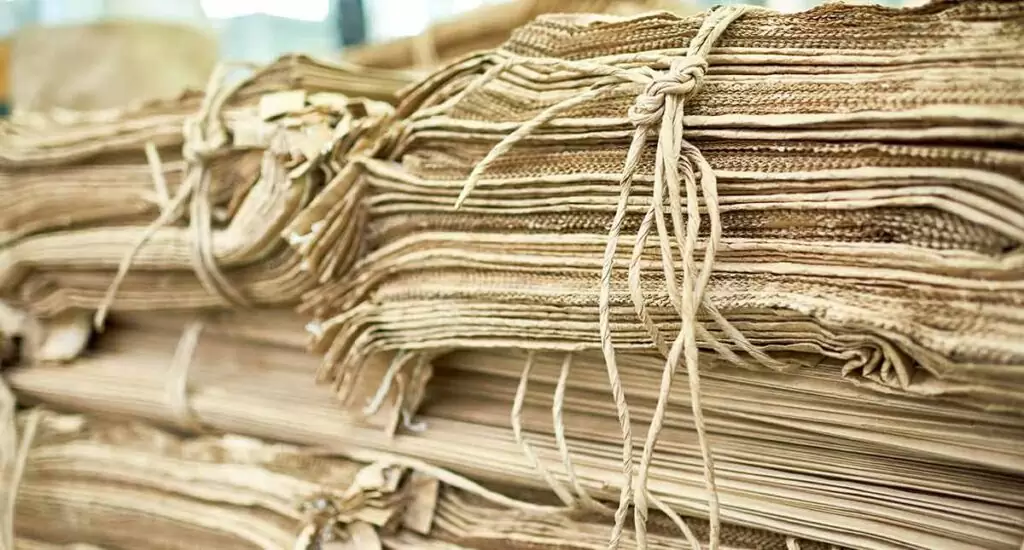 The perfect raw materials for recycled packaging are those that are easy to recycle.
On the other hand, these materials should not only be able to be recycled, but also to be reduced and reused.
Here are the most suitable materials for the manufacture of recycled packaging, so you will have no doubts when selecting the packaging that best suits your objectives.
Aluminium
Aluminium is a material used for the manufacture of cans and packaging for food products.
This raw material falls into the category of recyclable packaging, as it has the opportunity to be transformed multiple times.
In addition, it does not lose strength, thermal capacity or durability with each recycling process.
Paper and cardboard
On the other hand, paper and cardboard are two of the best options when it comes to recycled packaging.
The cellulose, from which this type of packaging is made, can be recycled several times through a simple process.
Depending on how strong the paper fibres are, they can be reused to make napkins, paper bags, plates, cups and packaging.
Plastic
Plastic is a material that is widely used for the manufacture of various typesof packaging.
It is the main raw material used to manufacture products for different sectors of the economy. In the hotel and catering industry, it can be found in plates, glasses, cutlery and tablecloths, among other items.
It is easy to recycle and the best thing is that it does not lose its strength with each recycling process.
Glass
Glass is a material from which resistant and usefulcontainers are made to preserve food products.
This raw material is ideal for recycled packaging, as it has the capacity to be returnable.
Due to its characteristics, it can be recycled an infinite number of times and will never lose its properties in the process.
Organic fabrics
Organic fabrics are on the rise and represent an alternative to the use of plastic in the manufacture of hospitality products.
These fabrics are made from cotton, palm leaves, sugar cane bagasse and hemp and are much stronger than plastic bags.
They can be reused several times or degrade in about 100 days.
This represents a respite for the environment, as they disappear without causing damage, compared to plastic bags that can take up to 10,000 years to degrade.
Moreover, this organic raw material isalso used to produce plates, containers, cups and other products.
They have the same strength as plastic products and biodegrade in months, leaving no trace or footprint on the environment.
Ideas to promote recycling of packagingmaterials
Companies produce recycled packaging, but how do you promote recycling once it's in the hands of customers?
Learn the best strategies to guide people to recycle and reuse packaging.
Use reusable packaging
Use packaging that does more than just hold a product.
A good way to ensure that your packaging is recycled is that it can be used for other purposes.
This ensures that the raw material does not end up in landfill, without having been used to its full potential.
For example, the tubs of organic raw material from which a home delivery order was received can be converted into a container for storing leftovers from dinner.
Making packaging with the necessary material
Recycled packaging also requires that there is no waste in the raw material to be used.
Using more product than necessary makes it more expensive to produce, increases energy costs and generates more waste.
Instead of covering a product with several layers of packaging, use the right layers to provide protection.
Indicate that the packaging is suitable for reuse
If customers do not know that packaging can be reused, they will throw it away.
Add symbols and messages indicating that the packaging is reusable and recyclable.
This way, they can reuse them at home or take them to a recycling point for companies to turn them into new products.
Buy your quality recycled packaging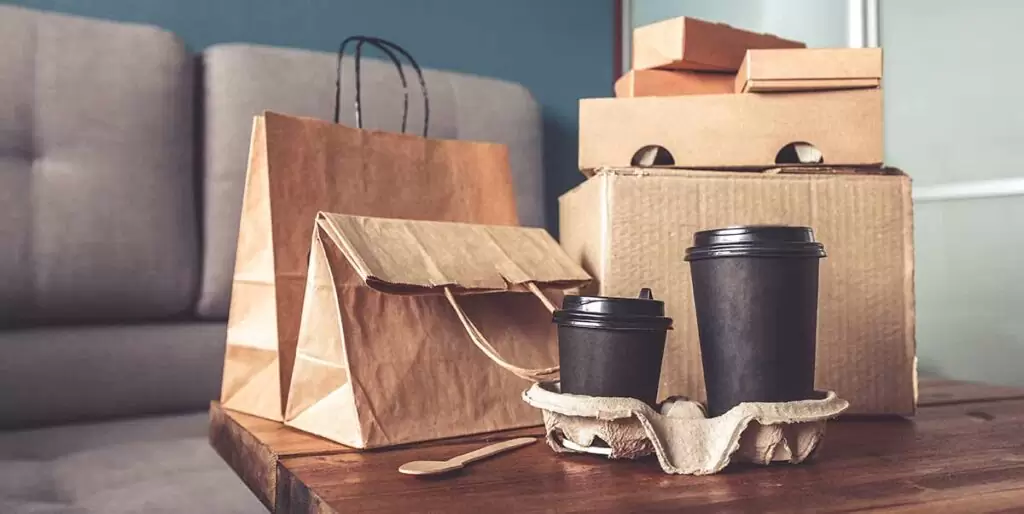 Your hospitality business needs quality recycled packaging to offer a good service toyour customers.
In Greenuso, our online shop, you will find a catalogue dedicated to sustainable catering products, committed to caring for the environment.
We offer you cardboard packaging, with attractive and specific designs for different foods such as fast food, confectionery, catering and Chinese food.
We also have other recycled packaging products such as plates, cutlery, tablecloths, bowls, napkins, bags, stirrers, trays, greaseproof paper and trays.
All our packaging is made from organic and recycled raw materials such as coconut, paper, corn starch, cardboard, pine flakes, wood, sugar cane bagasse, corn starch and bamboo.