Ooho: the most sustainable way to quench your thirst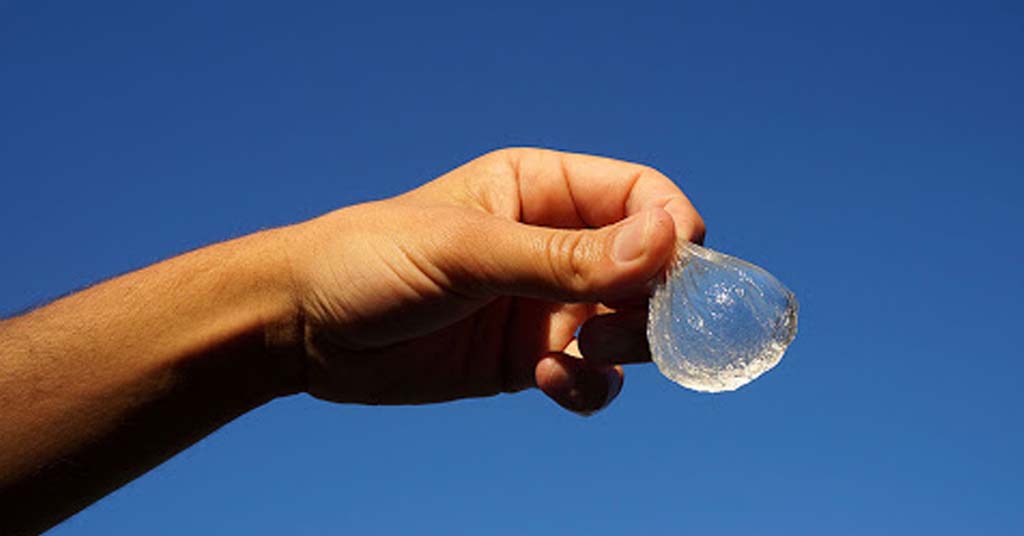 If you are concerned about the environment you should know that the accumulation of plastic all over the planet is a big problem. Fortunately, since Greenuso we bring you good news to help change this reality.
This is Ooho Bubbles, an alternative for drinking water without endangering Mother Nature. Are you interested? Here's why Ooho is the most sustainable way to quench your thirst.
What are Ooho water bubbles?
Ooho bubbles are spherical water containers, which enclose the vital liquid in a gelatinous membrane. They were created by Rodrigo García González, Guillaume Couche and Pierre Paslier. This invention was awarded the second annual Lexus Design Award 2014.
They are made from algae, chlorine and calcium through a process called spherification. The latter is mainly used in modern cooking to encapsulate liquid or gelatinous foods. As a result, small spheres with a texture similar to fish eggs are obtained.
The Ooho bubble membrane is edible, so you can eat it without fear, but if you prefer you can throw it away without any conscience, as it is biodegradable. In any case, you only have to break the packaging with your teeth and sip the water to quench your thirst.
They are ideal for marathons, outdoor concerts, parties, among other events. Apart from encapsulating water you can also store fruit juices, alcoholic drinks and even sauces.
In fact, during the 2019 London marathon they were distributed with the Lucozade Sport isotonic. Thus, 200,000 plastic bottles were replaced, which was a great help, if we consider that in 2018 760,000 of these were collected.
An alternative to plastic bottles
Each year, approximately 8 million tons of plastic end up in the ocean. Millions of water bottles are among the utensils found in the sea. Most of these are made from polyethylene terephthalate (PET), an oil derivative that takes centuries to disappear.
Ooho bubbles have arrived as an ecological alternative. This is possible because they biodegrade within 4-6 weeks, unlike the usual plastic bottles that could take 1000 years or more to disappear.
In addition, the production process for Ooho bubbles is much more economical and environmentally friendly than that of plastic bottles. According to its creators, it requires nine times less energy and generates five times less carbon dioxide.
In fact, Ooho bubbles can be made directly at the place of consumption. This way, it is not necessary to transport them, significantly reducing the impact on the environment.
Edible water bottles Ooh at home, learn how to make them!
If you want to do the test you can make your own Ooho water bubbles at home. It's so easy that anyone can do it, just gather the ingredients and follow the instructions:
Ingredients:
Drinking water.
1 g of sodium alginate.
5g of calcium lactate.
Instructions:
Add the sodium alginate in a cup of water and mix with a blender. Let it stand for 15 minutes.
In another container, add the calcium lactate to 4 cups of water and shake.
Use a spoon of your choice size and carefully add small amounts of the first mixture to the second. Stir slightly for about 3 minutes.
Extract the formed spheres and put them in a container with water to stabilize the reaction and that's it.
At this point, you can quench your thirst in a very ecological and fun way. In fact, you can add colorants as well as encapsulate fruit juices or other drinks.
Ooho water bubbles have come to stay in our lives and gradually replace plastic bottles. After all, not only are they eco-friendly, which is great, but they're also very economical.