How to make a home swimming pool with pallets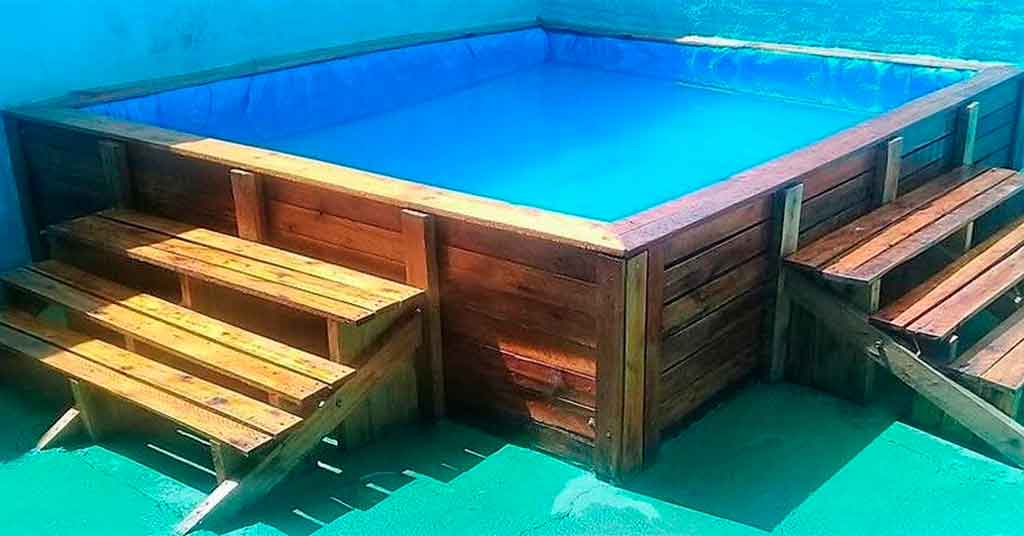 Imagine for a moment how nice it would be this season if you could build your own home swimming pool without making big investments, wouldn't it be great?
Believe it or not, you don't need to invest that much money to forget about the high and exasperating temperatures of summer. On the contrary, you can design your pool using the least expensive materials: pallets.
Would you like to find out how? Excellent, in this article by GreenusoWe will give you all the necessary instructions to build your home swimming pool with pallets for a ridiculous price.
Do you dare to continue? All right, let's get started.
Materials to build your cheap home swimming pool
First of all, you don't have to be an engineer or a bricklayer to assemble it with your own hands. All you have to do is visualize the finished product and have enough disposition.
As we had mentioned, you can choose the cheapest materials and still guarantee the most pleasant experiences at home.
This is what you will need:
10 pallets (or as many as you need depending on the size you are looking for).
Organic canvas.
Waterproof cover.
Duct tape (the strongest kind).
Nails.
Wooden lining.
You can get the pallets in some stores free of charge. If it's a pool for the little ones, you can reduce their number.
On the other hand, the lining can be of the material you prefer, but wood is cheaper.
Don't forget to buy a water purifier to enjoy maximum hygiene throughout the season.
How to create your home pool: step by step
Follow the tips below and you'll have your home pool finished in less than a day, we promise!
Choose your pool location. The patio or garden are always the best alternatives. Just make sure you have enough space.
You can take an extra pallet to disassemble it and create your own exterior staircase.
Put enough tarp on the chosen spot. This will work as the base of your pool.
Take the pallets and put them on the tarp in an upright position. They must be touched to enjoy stability and solidity.
Nail the pallets together to create an initial support and then wrap the pallets with the adhesive tape to secure them.
You can use some boards to create a smooth, level surface on the top edges of the pallets.
Cover the entire interior of the pool with organic canvas. Make sure there are no holes in your pool so that there are no leaks.
Now cover the whole interior with the waterproof canvas.
Secure the liner from the inside edge to the outside with tape.
Your pool already has the right conditions for your enjoyment, but now it needs an aesthetic touch for the grand finale.
Use the wooden liner to cover the outside of your home pool.
Make sure all joints are in place.
Use a hose to fill the pool.
Et voilà! Now you have a magnificent home swimming pool to brighten up your summer days.
This pool will hold a large capacity, so you can meet with several people close to you to have a good time.
Enjoy your new swimming pool!